Introducing the Re-Leased & Metrikus report, Return to the Office: The Future Now
Together with our friends at Re-Leased, we've put together a comprehensive report exploring the return to the office.
The future of work was always on the horizon, but as we are all too aware, the COVID-19 pandemic pushed the future into the now.
The office as we know it is changing, as are our relationships with the spaces we work in.
As the return to the office begins in earnest in London, we wanted to look at how the shift is going to affect two distinct groups: workers on the one hand, and property owners, developers and asset managers on the other.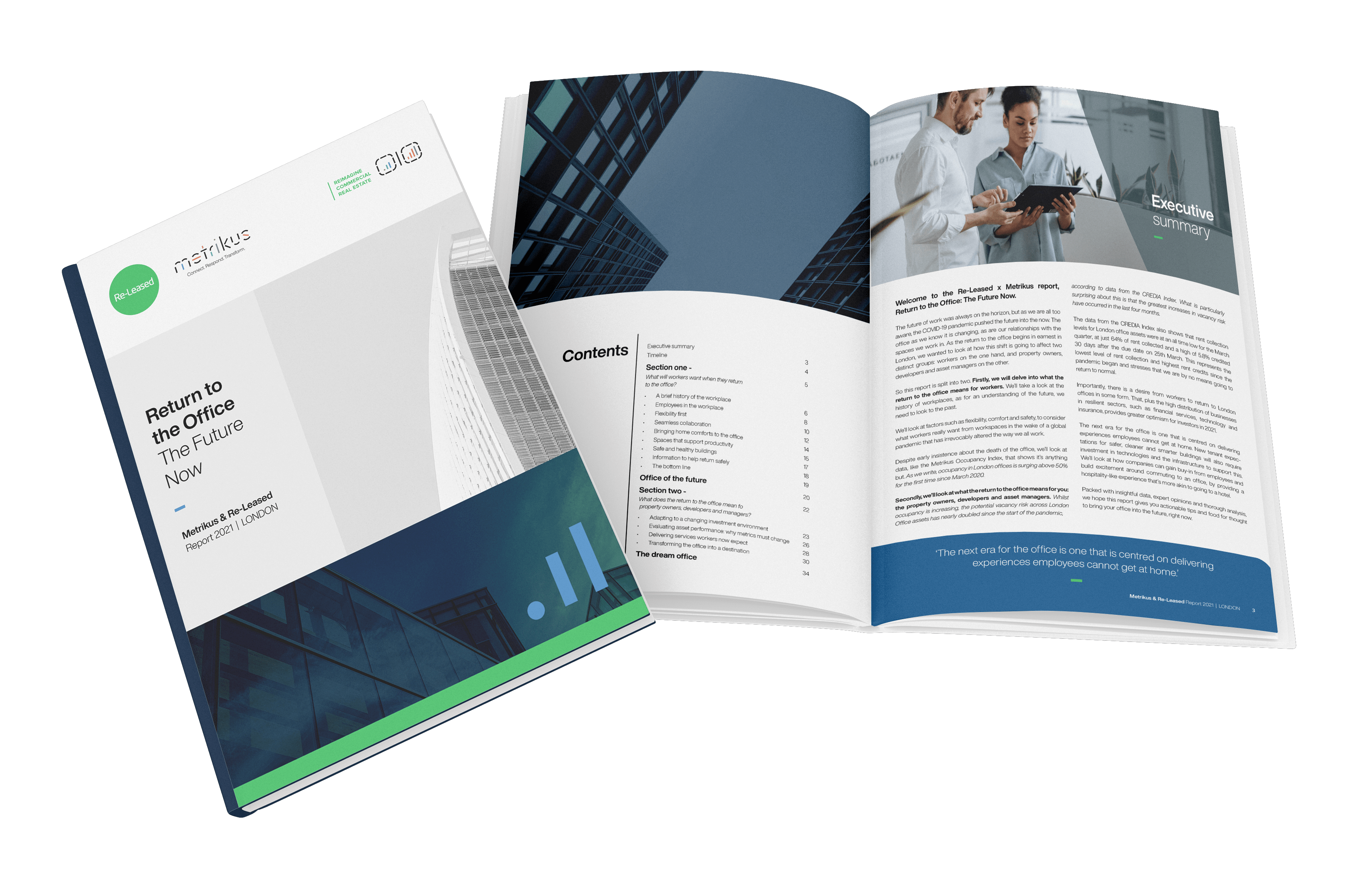 Executive summary

A brief history of the office

Employees in the workplace

Flexibility first

Seamless collaboration

Brining home comforts to the office

Spaces that support productivity

Safe and healthy buildings

Information to help return safely

Adapting to a changing investment environment

Evaluating asset performance: why metrics must change

Delivering the services workers now expect

Transforming the office into a destination
With thanks to our contributors
Adam Taylor
, Chief Innovation Officer at AirRated
Andy Saull
, Head of Research & Strategy at Pi Labs
Antony Slumbers
, Co-Founder of Real Innovation Academy
Bengt Johannes Lundberg
, CEO at Disruptive Technologies
Caleb Dunn
, Commercial Analyst at Re-Leased
Craig Seager
, Sales Director UK MEA at Condeco
Daryl Perry
, UK Head of Insights at Avison Young
David Kaiser, Head of Real Estate for UK and Ireland, WeWork
Francesca Brady, CEO and Co-Founder, AirRated
Michael Grant, COO at Metrikus
Tom Wallace, CEO, Re-Leased
Tracy Wymer, Vice President of Workplace Strategy at Knoll