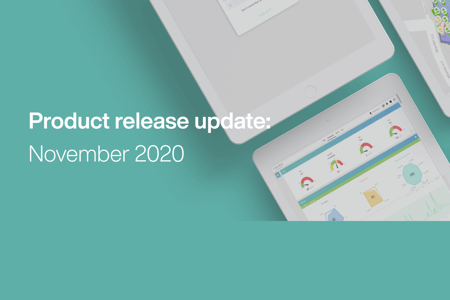 Geozones
speed up your set up process
2nd y-axis
compare data on multiple axes
It's here – the November product release update, lockdown 2.0 edition. We know you're busy commuting from your bedroom to the kitchen table, so this is a quick one.
What's inside?
Copying and moving geozones

2nd y-axis on charts
Copying and moving geozones
The need-to-know:
First of all, let's talk geozones and occupancy zones.
Geozones are user-defined areas and are drawn to visualise the boundaries of a space: this could be a floor, a meeting room or breakout space.
Occupancy zones are the same as geozones, but they hold additional occupancy attributes, such as the department name, number of workspaces and more. This information is then used to drive many of our occupancy dashboard visualisations.
So what's new?
In most cases, when setting up occupancy zones for multiple desks, all of the attributes are the same. You can now copy geozones and occupancy zones – this really speeds up the initial set up process as you no longer have to enter the same information several times. It also means you don't have to keep redrawing the same desk areas; you can just reuse one you have already created.
In one go you can now copy a zone to as many other groups as you like. Once copied, all you have to do is edit the newly copied zones and drag it to the new location. Easy peasy.
Why this is great:
✅ Big time saver during setup where you need to create many zones with the same attributes and shape (like desks, for example)
✅ If the furniture layout changes, you can easily move existing zones to new desk locations rather than completely redrawing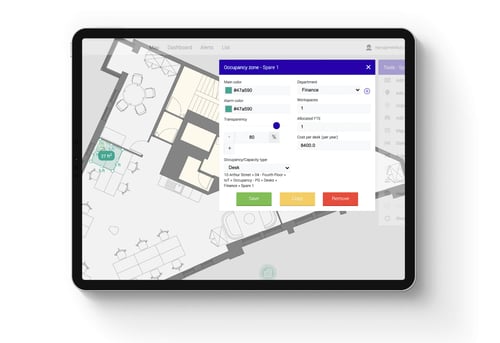 2nd y-axis
The need-to-know:
We have added the ability to add a second y-axis to charts. This is available for the standard charts panel, supporting both line and bar charts. Maybe not the most glamorous update, but very useful nonetheless.
Why this is great:
✅ Simply provides an easier comparison of data by showing the range for both data sets