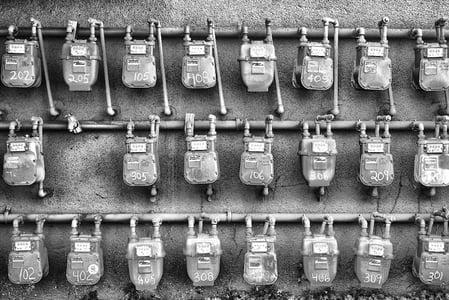 28%
of global carbon emissions are from the energy used in buildings.
30%
of energy used in commercial buildings is wasted.
Up to 25%
reduction in energy usage with Metrikus.
Making buildings more energy efficient is absolutely key to achieving net-zero emissions by 2050. And it needs to become an immediate priority for many organizations if we're serious about protecting the environment for future generations.
Real-time and historical trend-based energy monitoring is the best way to track and control your consumption and reduce your carbon footprint.
Explore how energy monitoring can specifically help you below:
Scenario 1: Reduce your energy consumption and environmental impact
The challenge:
The energy used to power buildings accounts for 28% of global carbon emissions (World Green Building Council, 2019), so there is evidently a critical need to decarbonize buildings and our economy. On top of this, new ESG regulations are continuously emerging and the long-term value of assets is increasingly impacted by their sustainability.
Our solution:
Our data aggregation software generates actionable insights to help you reduce your energy usage by up to 25%, decreasing the environmental impact of your buildings and helping you along to net zero.
We use a range of methods (including using IoT and BMS data) to track the power running through your cables. This allows you to monitor usage trends from an individual device to a floor, to an entire building, obtaining a holistic view of your energy consumption.
Scenario 2: Drive operational efficiencies and save on energy costs
The challenge:
There's often a real lack of visibility about what energy is actually being used for in our buildings. Companies receive energy bills at the end of each month without understanding why and how this energy has been used in their building. Energy is often inadvertently wasted, especially when spaces are empty.
Our solution:
With our platform, you can also analyze energy data alongside occupancy and environmental data to identify good opportunities for reducing your consumption and saving on energy costs.
It's simple to set alerts for when energy usage exceeds set thresholds so that you can get any issues sorted quickly and ultimately save on operating costs within your building, whilst reducing your environmental impact at the same time. We call that a win-win.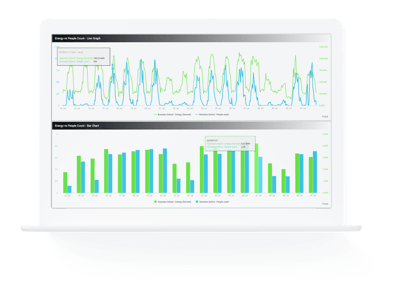 Our solution in action: Manchester Metropolitan University
We deployed our real-time energy monitoring solution at Manchester Metropolitan University (MMU). By connecting to the building management system (BMS), we were able to pull data from the energy meters in the Business School. We also deployed footfall counters, so that occupancy data could be overlaid against energy data.
MMU was immediately able to see that a high amount of energy was being used irrespective of the occupancy levels. On the back of this data, they decided to reduce operational hours and stagger BMS settings in line with footfall. This quickly helped them to significantly reduce their carbon emissions and make their space more sustainable.
Talk to an expert about energy monitoring