How Wallace Whittle is using Metrikus to improve workplace experience
When moving to their new offices in Glasgow, Edinburgh and Aberdeen, Wallace Whittle was on a mission to optimize employee experience, comfort and productivity.
So when they came to us, we knew that our indoor air quality monitoring solution would be the perfect fit.
In this blog post, we dive into the work we did together, sharing some of the key aims and outcomes of the project.
What did the project involve?
After we deployed indoor air quality sensors throughout their offices, the team at Wallace Whittle immediately had access to real-time indoor air quality data through our building efficiency platform.
This helped to give them a better understanding of key factors like CO2, temperature, humidity, PM2.5 and VOCs – all of which can have a big impact on productivity and wellbeing.
Now, historic data and trends are being used by senior management and their engineering teams to make more informed decisions about building performance and management, as well as employee experience.
What were the key outcomes?
1. Better employee communication
Wallace Whittle can now use our Kiosk Mode (shown below) to display real-time indoor air quality data to employees and visitors.
At any given time, employees can see what the air quality is like in meeting rooms and other spaces around the office. If the CO2 levels are high – a common cause of tiredness in meetings – their employees can see this on the screen, and the appropriate teams are alerted to take appropriate action.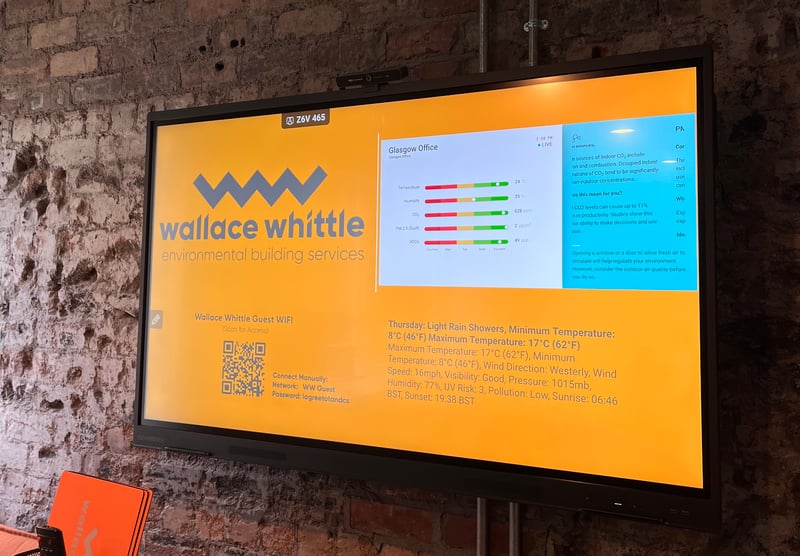 2. More data-driven decisions
With access to real-time indoor air quality data, Wallace Whittle can make data-led decisions about when to naturally ventilate the office by opening windows.

Engineering staff can now see historic data in the Metrikus platform, helping them to identify indoor air quality trends in the offices and make predictive decisions based on this data.
3. Reduction in energy usage
By analyzing trends in environmental data, Wallace Whittle now understands the most efficient times to heat and cool their office.

This is helping them to reduce energy usage and bills, all while optimizing employee experience.
What next?
With our technology in place, the benefits for Wallace Whittle will keep on coming. And we will keep helping more and more companies like them to boost employee experience, comfort and productivity.
Want to find out more? Get all the information about our indoor air quality monitoring solution.