Metrikus Meets... Fiona Bennett from Depop
Part Two: 'Workplace managers are already at the forefront of the future of work'
Metrikus Meets is a series where we talk with some of the brightest minds about the future of work, IoT, the built environment... and most importantly, themselves! We want to get to know the person behind the ideas.
We chatted with Fiona Bennett, Senior Workplace Manager at the game-changing social shopping app, Depop. In Part Two, we discussed how the pandemic has changed what people want (and need), how Depop are planning to get people back to the office and why people need to love the places they work in. If you missed Part One all about Fiona's career journey and learnings, you can find it here!


Let's dive in with the question I'm sure everyone is asking: what's the difference between facilities management and workplace management?
There's a lot around facilities management that's very process driven, where A+B=C, it focuses on the place where work happens. Workplace management is the place and the experience while you're in offices, the events that you have, the food that there is, the environment you build, how you use that environment.
You find a lot in tech companies and creative companies that there's a higher focus on wellbeing and a lower focus on cost cutting (although obviously you still need to be kind of lean and think about what's the return on investment). It's why you have the Googles, and the Facebooks, and all these campuses. It's providing what employees need to be happy and more productive.
So that's the big difference between workplace and facilities management. You start appreciating how the environment and the experience you provide makes a difference to people's lives and their productivity. Think about it: you're coming into work for eight hours a day, some people more: it has to be good. You have to have everything that you need, you need to feel comfortable, you need to feel safe, you need to feel cared for.
In your opinion, what's one thing every office needs?
So it's not one size fits all, but our office surveys are saying exactly what a lot of the studies and whitepapers and webinars and all of those things that I spend my life looking at say: more collaboration space. I think it's because that connection is what people are missing so much.
We're all working from home, in our own little silos. There's so much to be said for working from home, for being able to focus and concentrate and not being pulled away but you just have no one to bounce things off, no one to say something out loud to. I think that's the biggest need right now – people want to sit next to each other and work together.
Has what people want changed with the pandemic?
They definitely want more wellbeing perks now, more things that can teach us how to look after ourselves, more spaces in the office that allow that. We've done some really cool sessions lately with exercise and meditation, but also did a financial wellbeing webinar. We have a really young demographic and I wish I had this kind of guidance at their age!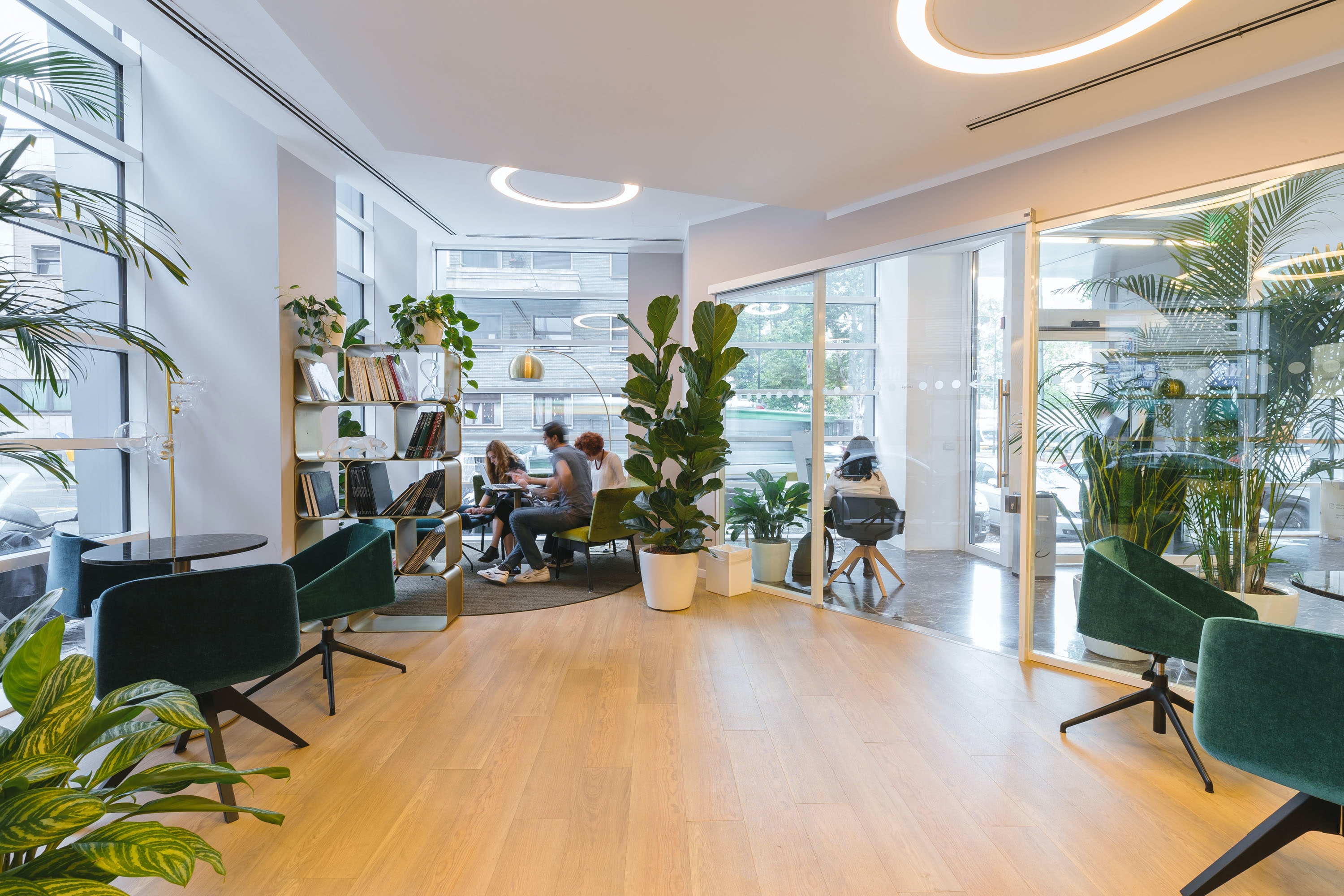 What about getting people back into the office?
We do want to hit a certain number of days in the office, but we also made the decision that we were not going to mandate that. Obviously we need to know how many people are going to be in the office in terms of knowing how much real estate space we need, right? So we have a minimum that we want to hit.
We presented a couple of different options to our leadership. One of them was to mandate two days a week in the office and spend a lot of time working out people's schedules and which days they are going to be in the office.
Or we can say we would like you to be two days a week in the office and choose what works best for you as a team, which matches up with what the employees want. There's around 80% that want two or three days in the office, with a few that want more, a few that want less, but largely, that's what they want. They see the value in coming in, they see the value in being co-located so we can be much more flexible.
But there are still challenges, particularly as things change, as we see new variants, as some people want to get vaccinated, and some people don't: there's all these other factors that are coming into it. And then some people just don't feel safe yet. I get it, I'm not ready to eat inside a restaurant yet, you know?
We're thinking about ways that we can encourage and entice people back in. The Depop team are absolutely wonderful human beings, and they want to be together, we don't see the need to force them to be together. So I'm thinking about those little things that we can do. People are already starting to come back in now. And it's really nice. It's just gorgeous, I love it.
Where do you see your industry heading?
I feel like a lot of us who work in tech and creative are already there on the forefront. It's about making those changes: workplaces are no longer about the desks and square footage, it's about experience; it's also about people's working from home experience, the workplace is expanding a lot. And I see everyone else catching up! I'm not saying that everything I do is perfect or revolutionary, but we are at the front, figuring out what this means.
Activity-based working is so interesting to me, and the industry has been leaning that way for so long, but there are so many companies who are late to adopt it. Although surprisingly, a lot more traditional institutions are adopting it! You can also see that so many companies who are working on their hybrid working or work from anywhere policy are actually spending more money on their real estate, more money reconfiguring their offices and making them collaborative hubs.
Everyone is cottoning on, but you still have to be an advocate and say what the office is for now is different to what the office was for two years ago. It will always evolve and this industry needs to be open to change, and not always basing everything on X sq ft per person.
Lightning round
Do you have a project management tool that you use?
I have a project management tool that I love but my team doesn't like it so I can't make them! So at the moment we use Trello, the team likes how flexible and versatile it is.
Do you block out your time or wing it?
We're such a lean team at the moment that I just have to be accessible – even as I'm talking to you right now my Slack is blowing up! A lot of my meetings tend to be in the afternoons so I try to use the mornings as focus time and we also have Mindful Wednesdays,, so we shouldn't be having meetings on Wednesdays (Metrikus note: thanks to Fiona for having this very interview on a Wednesday!)
Are you a morning or evening person?
I am an evening person who is trying to turn herself into a morning person! I got up at 6am this morning, went for a swim, now I'm exhausted and might have to take a nap!
Who would be your three dream dinner party guests?
Britney, of course. And my friends, I'm not really into celebrities. It would be a dance party.
That sounds like a fantastic dinner party to us. A massive thank you to Fiona for such an insightful and generous interview! If you enjoyed this, you can catch Fiona in conversation with our very own Charlotte Laing.
Stay tuned for the next edition of Metrikus Meets! Have someone you'd like us to meet? Let us know!