Unlocking London: are workers really returning to the office?
As we enjoy restrictions being lifted and the vaccine rollout continues with success, life is beginning to feel a bit more normal. However, there is plenty of debate in the papers and online about what this shift means for office space and employees.
Our Occupancy Index showed that levels of workers returning to the office recently reached a new peak, with office occupancy tipping over the halfway point (51.32%) on 25th May 2021. And just so we're totally clear: our Occupancy Index data is compared to pre-COVID levels, rather than total possible occupancy.
But we're never ones to rest on our laurels when it comes to data. We wanted to dig a little deeper, to see if other sources were in agreement with what we were finding. Spoiler alert: they are!
Working flexibly
Flexible working spaces, such as Workspace Group, have seen a huge rise in demand recently, with leases increasing by over 100% from January to March this year. Thinking about what this means for the future of work environments, the market for flexible coworking spaces and hot-desking will only keep growing. Post-pandemic (when sanitizing and social distancing is no longer as stringent), flexible work spaces could really give traditional office setups a run for their money.
On this topic, Mark Read, Chief Executive of advertising giant WPP recently commented: 'We're never going to go back to working the way we used to work'. This is true: there's no doubt the pandemic has shaped how we work in the long-run. However, many office workers have been desperate to get back to more formal desks since March 2020.
What's transport got to do with it?
Looking at transport levels tells us something valuable in this conversation: we can get a better idea of how many people are moving about during the week, rather than working remotely Monday to Friday. Anyone using public transport in recent weeks will have felt the familiar crowding of the Underground; higher levels during weekdays suggests more employees are returning to the office already.
Data from the Department for Transport (DfT) has shown a steady increase in commuters during the past few weeks, with London buses reaching 65% of pre-pandemic levels in the week of 24th May, and Tube levels approaching half (47%).
The Apple Mobility Index also gives us a good idea of people's movements; when looking at data for London, levels of walking, driving, and public transport have all seen sharp increases in the past few weeks.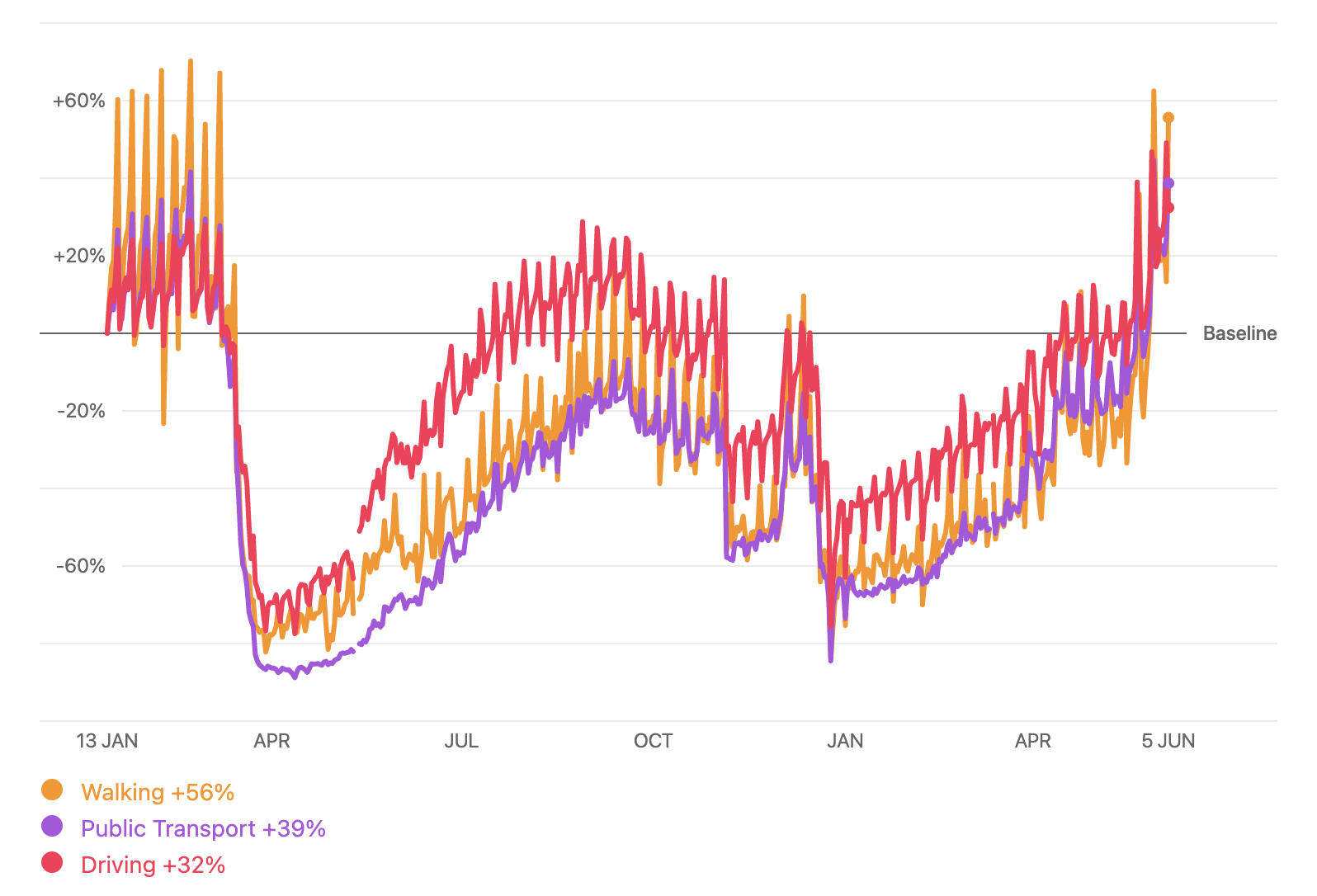 Apple Mobility Index – London
Citymapper, the handy journey planning app, is another great tool to indicate how many people are moving around London during the week. Looking at data from their Mobility Index, the weekdays of June are already showing a sharp increase, with mobility levels consistently between 61 and 64% on June work days.
A new type of commute
The pandemic has really shaped our daily habits, with many people rediscovering the outdoors through rollerblading, wild swimming, and cycling.
While we don't expect swimming to work to become the norm, many people have found cycling is a much faster, healthier and cheaper way of getting to the office. The DfT's recent paper reports that recent push bike traffic on the roads is 45.7% higher than levels in 2019. Obviously we should remember that cycling is a highly seasonal way to travel, but the DfT has commented that, 'This is the highest level of cycling on the public highway since the 1960s'.
Looking at the data from office buildings and transport traffic, it's clear that workers are slowly but surely getting back into the office. The post-pandemic office is set to be more flexible than ever before, and it's really exciting to see how work cultures will continue to shift in the coming months.
If you're keen to explore more about the balance between remote working and the future of the office, download our recent report in collaboration with Re-Leased.