Top 5 weird tech announcements from CES 2022
CES 2022 has officially come to an end, bringing plenty of exciting announcements from some of the world's most innovative tech giants.
As always, we've been keeping an eye out for some of the strangest products on display. It's safe to say there were plenty of weird and wonderful concepts to choose from, but we've narrowed it down to five things that caught our attention last week and judged them based on our very own criteria:
1. Real life usefulness
2. Originality and weirdness
3. Technical genius
Read on to find out which product was crowned Metrikus' top CES announcement of the year – a very prestigious award if we do say so ourselves.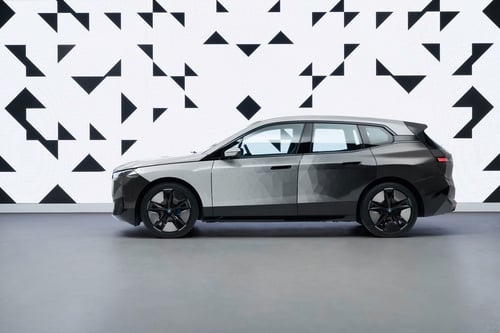 If you're ever feeling indecisive about what color vehicle to go for, BMW have got you covered with E-Ink: a brand new color-changing paint technology. The E-Ink can be toggled with the touch of a button, with the exterior color switching from black, to gray or white.
BMW's press release explains that the surface coating of the BMW iX Flow contains millions of microcapsules, all with a diameter equivalent to the thickness of a human hair. Each of these contains negatively charged white pigments and positively charged black pigments.
Depending on the setting you pick, stimulation from an electrical field causes either the white or black pigments to collect at the surface of the microcapsule, giving the car the desired shade.
Sounds very cool to us, but sadly you probably won't be seeing this at your local car dealership anytime soon as BMW says this is just an 'advanced research and design project.'
Real life usefulness: 3/5
Originality and weirdness: 3/5
Technical genius: 4/5
Overall score: 10/15
'A really interesting innovation with some implications if you scale the tech down a little. Could you use something similar to look at display information about the vehicle while stopped? Perhaps a driverless Uber will indicate whose it is by emblazoning the name on there going forward?' – Sam Hall, Head of Technology, Metrikus
2.

Homeplenish's smart toilet paper holder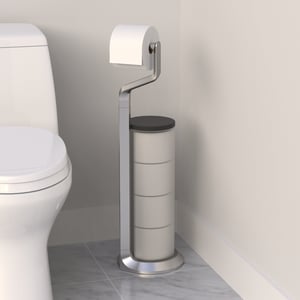 This bizarre new gadget from Homeplenish tracks your toilet paper usage to predict when you'll run out, then orders more so that your replacement rolls arrive just in time.
Homeplenish says its device will prevent people from hoarding rolls, unlike some alternatives that tend to buy replacements on a set schedule. It also integrates with Amazon's 'Smart Reorder' platform, taking into account delivery times to calculate the ideal reorder time frame to ensure there's never too much or too little toilet paper on hand.
Is this something that really needs to be automated? Probably not, but we thought it deserved a place on our list all the same, especially after the bizarre stockpiling of toilet paper at the start of the pandemic.
Real life usefulness: 1/5
Originality and weirdness: 3/5
Technical genius: 2/5
Overall score: 6/15
'It's safe to say I won't be rushing out to spend money on this – definitely seems like a crap use of smart technology to me (pardon the pun).' – Chloe Evans, Marketing Development Representative, Metrikus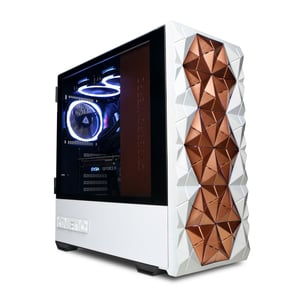 Lots of keen gamers use RGB fans in their PCs, but CyberPowerPC's new case goes one step further – turning a typical tower into a breathing computer.
It's a full ATX desktop case that has a smart ventilation system on the front, with 18 individually controlled vents that open and close based on the system's current internal temperatures.
If you're just watching a quick YouTube video, the vents will stay closed, but if you're playing the latest game, the vents are likely to be fully open to suck in as much air as possible as the temperature increases.
So far, the design has received mixed reviews, with people tending to either love it or hate it. Either way, it's getting people talking which is always a good sign.
Real life usefulness: 3/5
Originality and weirdness: 2/5
Technical genius: 3/5
Overall score: 8/15
'Looking at it, it's a cool design – quite futuristic and if you don't have good ventilation where your PC is it might be quite useful. But to be honest, it seems more style over substance for the price.' – Zhelini Sivanesan (Zee), Backend Engineer, Metrikus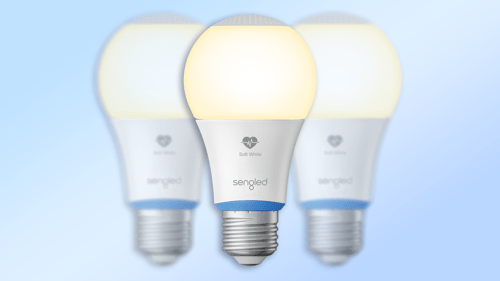 At Metrikus, we're fascinated by developments in the Internet of Medical Things (IoMT), so this one naturally caught our eye.
And out of the items on our list, Sengled's Smart Health Monitoring Light is probably the one with the most legitimate use cases – like monitoring patient health in hospitals or assisted living homes.
It looks like your average lightbulb, but it houses a compact radar technology that's designed to measure several vital signs of anyone within range – including sleep quality stats, heart rate, and body temperature.
Once the bulb spots any of these vital signs going out of the healthy range, the color changes to notify the patient or the people around them. It can even determine if someone has fallen within the room and automatically call for help.
The tech is still under development, so we don't know how much it will cost and how accurate it will be, but devices like these could be the future of IoMT.
Real life usefulness: 4/5
Originality and weirdness: 1/5
Technical genius: 4/5
Overall score: 9/15
'I am generally very skeptical until I have seen something working but it caught my eye. I can see it accompanying wearable tech and it could cover some specific use cases very well.' – Harry Plummer, Product Manager, Metrikus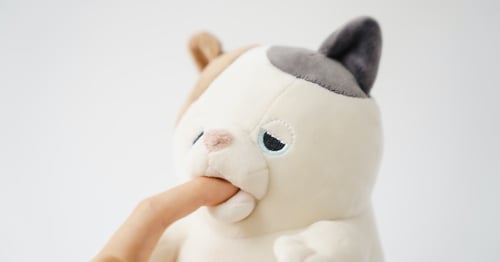 We thought we'd save the best until last, with the release of a truly bizarre stuffed animal that gently nibbles on your fingers for comfort. It comes from the company that made the equally strange Petit Qoobo, which made it onto last year's blog post with top CES announcements.
The toy is called Amagami Ham Ham, with Amagami meaning 'soft biting' and 'ham' meaning 'bite' in Japanese.
It has a special algorithm called a 'Hamgorithm' that selects one of 20 nibbling patterns, so you can never be quite sure what you'll feel when you put your finger in the cat or dog-shaped toy. Yukai Engineering designed these patterns – including Massaging Ham, Suction Ham and Tasting Ham – to replicate the feeling of a baby or pet nibbling on your finger.
Creepy or cute? We're not sure how to feel about this one, but even though it might not be crowned our overall winner, we think it definitely wins the prize for the weirdest announcement of CES 2022.
Real life usefulness: 0/5
Originality and weirdness: 5/5
Technical genius: 2/5
Overall score: 7/15
'I don't quite know what to make of this. My first instinct was repulsion… but that quickly turned to curiosity… which quickly turned to an intense need to see what this feels like in real life. I think I might just need a Amagami Ham Ham?' – Caitlin Rozario, Senior Brand and Communications Manager, Metrikus
Our CES 2022 champion
After some very careful calculations, we can officially reveal that our overall winner of CES 2022 is BMW's colour changing car. It definitely stole the show at this year's tradeshow and it's a very cool (yet undoubtedly weird) piece of tech.
Want to read more about some of the strangest tech on the market? Read our blog post exploring the ten weirdest IoT enabled devices of all time.