Introducing our brand new, next-generation platform… Metrikus Helix
We recently launched a teaser video for Metrikus Helix – our brand new, next-generation platform.
Since then, we've had loads of people asking us what Metrikus Helix actually is, how it's different from our current platform, and when they can get their hands on it.
We're not quite ready to give everything away just yet, but we thought we'd write a quick blog post to give you a little bit more information and even a sneak preview of the platform.
Introducing… Metrikus Helix
We've been working on and constantly improving our current platform for nearly a decade now, and we're always looking for new ways to raise the bar for smart buildings.
That's why we're extremely excited for the launch of Metrikus Helix – a brand new platform that will uncover your building's DNA.
If you haven't seen it already, watch the video below to get a taste of what's to come.
What is Metrikus Helix?
Metrikus Helix is a revolutionary smart building platform that will completely transform the way people see and understand their data. With this new platform, you'll be able to:
Connect all of your building data in one place with analytics
Discover accessible data and actionable insights in minutes
Take action based on our pre-built dashboards and get tailored reports
Develop your own applications using our new API
Sound like a bit of you? Click here to be the first to find out more.
What makes Metrikus Helix different from the existing Metrikus platform?
Metrikus Helix has involved a major overhaul of our backend that will eventually completely replace the existing version. And we're introducing a new frontend that will offer a whole host of exciting features.
One of the most important parts of the process has been talking to our customers to get an understanding of what they actually want. The general consensus is that people are looking for an all-in-one solution that makes data accessible, and can be tailored to suit their needs.
We've also focused on improving reporting and giving more context to building data so that people can make better and more informed decisions.
If you're a tech aficionado and want to know more about the details,

click here

to hear from Sam our Head of Technology to know some behind-the-scenes secrets about the making of Metrikus Helix
What will Metrikus Helix look like?
Our lips are still sealed about the specifics of the platform, but it's safe to say that this isn't just any old product – Metrikus Helix will completely transform the way you understand your building.
Below is a sneak preview of our brand spanking new homepage: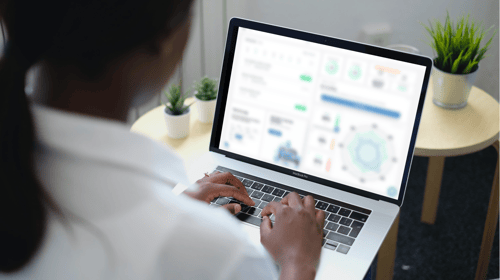 When will Metrikus Helix be available?
The beta version of Metrikus Helix will be launched in October, and we will be giving some of you lucky people the chance to test this out for yourselves.
Make sure you sign up here to be the first to find out about all things Helix. And for all those interested in the tech side of things, head over to Medium to check out a series of great articles written by our Head of Technology, Sam Hall.
The future of smart buildings is here… are you ready?