Metrikus and Appspace work together to empower employees with real-time data
Here at Metrikus, we aggregate data from lots of different sources in a building. And then we combine it, normalize it, and make it ready for you to analyze.
You can either get actionable insights through dashboards on our web application, or use our API to push data into your own application.
The latter is exactly what Appspace are doing – using our API to display real-time data on meeting room panels and other digital signage.
Our joint solution empowers employees with real-time data about the space they're working in, and keeps workplaces safe, healthy and productive.
What are the benefits of our joint solution with Appspace?
1. Easily reserve a meeting room
With just a few taps, employees can book a meeting on any touch-interactive booking panel or kiosk. And once you arrive at your reserved space, our solution checks you in automatically then releases your space when you're finished.
If you don't turn up after a set amount of time, the meeting room will be released so that it can be used by other employees.
No more waiting around to find a suitable space, and no more no-show meetings clogging up your board rooms – sounds like a win-win to us.
2. Navigate the workplace and choose a space that's right for you
With real-time occupancy data on display, it's easy to see how busy certain areas in your office are so you can quickly navigate your way to an empty desk or meeting room.
You can also take a look at real-time indoor air quality data across your office and select a space based on your preferences for factors like noise, light, and temperature.
Working in a space that's comfortable is really important – 53% of employees are less productive when their work environment is too cold, and 71% are less productive when it's too warm. So being able to choose an area that suits your preferences could have a big impact on your productivity!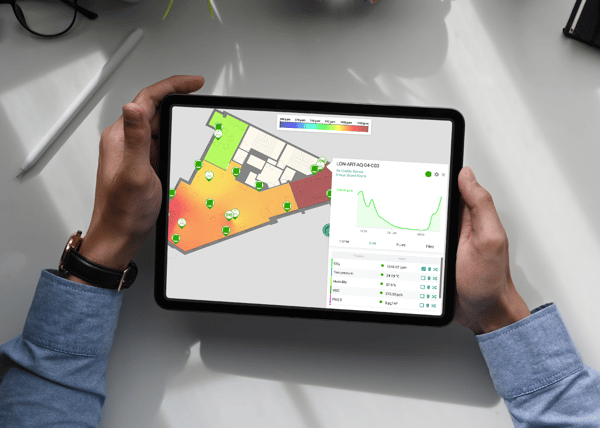 3. Get real-time alerts to improve health and productivity
We've all been stuck in a stuffy meeting room, struggling to stay alert during a long meeting.
This is due to high levels of CO2 building up, which can lead to a 23% impairment in decision-making and 11% reduction in productivity. There's even research that suggests that when CO2 exceeds 1000 ppm it has the same effect on cognition as two pints of beer!
This is where our solution with Appspace kicks into action: if CO2 levels in a meeting room exceed set thresholds, you'll get an automatic alert suggesting you take a break or ventilate the space by opening a door or window. And importantly, if the real-time CO2 levels are too high in a meeting room, you could be prevented from booking it completely.
4. Set up your space to maximize utilization and collaboration
With space reservation analytics, you can look at how rooms and desks are being booked versus how they are actually being used.
This means you can use past behaviours to suggest the size of meeting rooms going forwards, avoiding one person using a large meeting room while lots of people are crammed into a smaller one.
You can also use this data to inform longer-term strategies – redesigning your floor spaces to make sure your space is being used in a way that encourages collaboration across your teams.
5. Save energy by understanding underutilized spaces
The same occupancy data can be used to make your workplace more sustainable.
If you know a specific area – or even an entire floor – is completely empty, you can make sure HVAC systems are adjusted accordingly to avoid energy being wasted in unoccupied areas. It's thought that at least 30% of the energy consumed by commercial buildings goes to waste, so there are some big potential savings on offer!
For example, if you've got a lot of TWATs in your office – people who come in on Tuesdays, Wednesdays and Thursdays – you can shut down specific floors or areas on Mondays and Fridays to reduce energy usage.
All of this means better utilized space, reduced energy consumption, and lower energy bills for your company.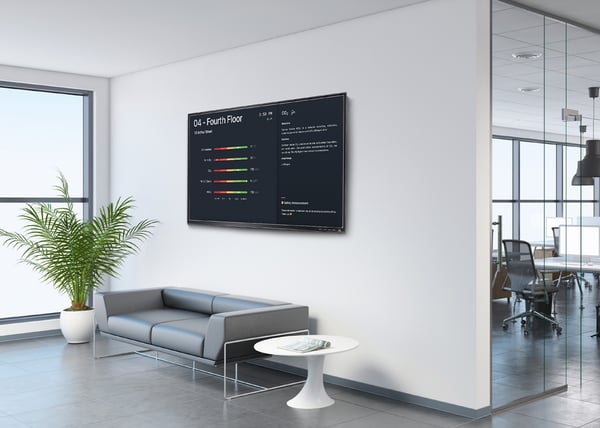 Want to find out more?
As you can see, our joint solution with Appspace brings about a whole host of benefits, making your workplace healthy, productive and sustainable.
To find out more about what we can do for you, contact our team today.