Getting the measure of the modern workplace | Webinar recap
In a world where many offices are still half empty, organizations are looking for opportunities to streamline real estate costs and reduce energy consumption.
But without access to accurate workplace data, it's impossible for them to understand how their space is actually being used.
In our recent webinar, host Michael Grant explored the wide range of technologies that can transform workplaces for the better: reducing costs, increasing productivity, and driving sustainability.
In case you missed it, we thought we'd write a quick blog post recapping the topics he discussed.
What does a smart workplace look like?
09:00-12:45 in the webinar recording
Here at Metrikus, we talk a lot about making buildings 'smart'. But we're not talking about installing a load of overly complex systems for the sake of it – 'bells and whistles' as Michael likes to describe it.
Instead, our definition of a smart office involves building data being collected, aggregated and used to help companies to make more informed decisions about their space.
The most important thing is that this data is brought together in a single place so that it can be compared and analyzed across an entire portfolio – be that a small office, hundreds of rooms across numerous floors, or various buildings spread around the world.
So, after recapping Metrikus' take on the ideal smart office, it was time for Michael to dive into three of the key technologies that can make workplaces more efficient, productive and sustainable:
Occupancy monitoring
Indoor air quality monitoring
Energy monitoring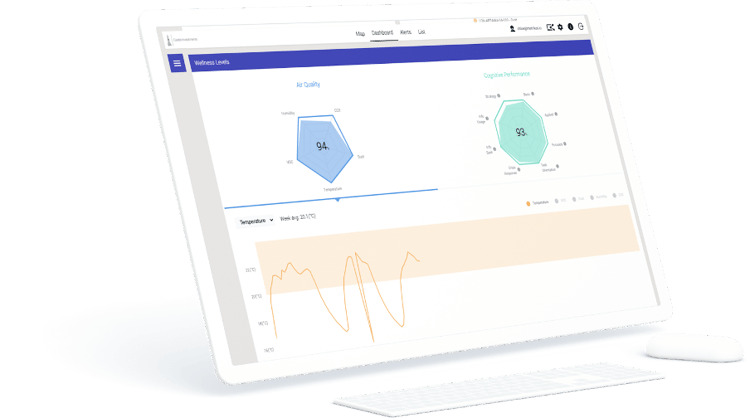 Getting a seamless data picture with occupancy monitoring
12:45-14:30 in the webinar recording
Occupancy monitoring uses IoT sensors to gather data about how a company's workplace is being used by employees.
To make data-driven decisions about downsizing or reallocating space, you need accurate data about:
How meeting rooms are being used
How specific desks are being used
Which spaces are most or least popular
Which spaces are booked but not used
Sensors can be placed under desks, on ceilings and in doorways to allow you to see usage – both daily and over time.
Once patterns and trends emerge, you can then take steps to optimize space utilization, right-size your estate, and save on unnecessary operating costs like energy.
If you want to find out more about the huge ROI that occupancy monitoring can deliver, make sure you head to 14:30 in the webinar recording. Michael did some quick maths to show how companies like Goldman Sachs could save a massive £270 million by optimizing the utilization of their office space.
Boosting employee productivity with indoor air quality monitoring
22:00-25:22 in the webinar recording
Indoor air quality (IAQ) monitoring is all about measuring and optimizing the quality of the air we breathe indoors.
Poor IAQ can cause an 11% reduction in productivity, and there's even research showing that when CO2 exceeds 1000 ppm, it has the same impact on cognition as two pints of beer!
Smart sensors installed in offices can monitor a wide range of parameters, from CO2 to PM2.5. And alerts can be set up when these parameters exceed optimal levels, so that you can take steps to keep your air healthy at all times.
In our webinar, Michael not only explained the basics of IAQ monitoring, but also spoke about our solution in action with GSK.
After deploying sensors to monitor and improve indoor air quality, we worked together to create the Kiosk Panel, which displays IAQ data on screens around an office. This has been a game-changer when it comes to communicating the health of the space to employees, while encouraging them to learn more about the common sources of poor IAQ.
To find out more about the details of our work with GSK, make sure you head to 25:22 in the webinar.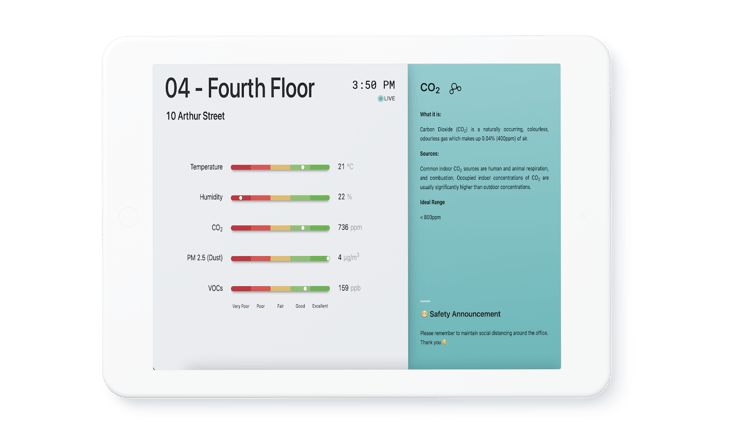 Creating more sustainable spaces that boost ROI
27:15-31:00 in the webinar recording
For the final section of the webinar, Michael dug a little bit deeper into sustainability and ESG, starting with some key stats:
91%

of business leaders say their companies should act on ESG

40%

of the world's energy related carbon emissions come from buildings

30%

of energy purchased is currently wasted in commercial buildings
With smart technology, you can actually see how much energy you're using on a granular level, and take steps to avoid wastage and drive efficiency.
This data can also be fed into ESG reporting platforms, and used for compliance with ever-growing sustainability regulations.
Like with occupancy monitoring, Michael took the example of Goldman Sachs to do some simple calculations on carbon ROI. He found that by repurposing or closing floors, the bank would be able to avoid 1,683 tonnes of carbon emissions each year, equating to a massive 42,000 tonnes over their 25 year lease.
Getting the measure of the modern workplace
We hope you enjoyed this recap of our webinar – make sure you watch the recording if you haven't already!
And if you want to learn more about smart building technology, make sure you check out our magazine, The Measure – Sizing Up PropTech, Commercial Real Estate and the Modern Workplace.