The Measure Magazine is here!
We've just published our brand new magazine, The Measure, sizing up PropTech, Commercial Real Estate and the modern workplace.
This inaugural edition shines a light on the biggest trends and innovations that are transforming the buildings around us for the better. It contains a whole load of industry news, actionable learnings and insights from the biggest thought leaders in our space, including the likes of Microsoft, CBRE, Accenture and many more.
In this blog post, we look at three key things you'll learn from reading the magazine: how to create an efficient, productive and sustainable space.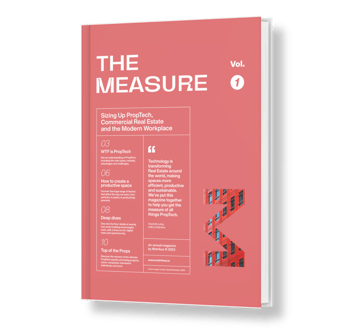 1. How to create an efficient space
In this first big section of the magazine, we explore how technology and innovation can make the buildings around us more efficient in every way.
Cost efficient – businesses around the world could realize savings of

$1.5 trillion

in reduced rental costs by avoiding wasted office space

Operationally efficient – having a robust predictive maintenance program in place can reduce breakdowns by

70%

, reduce downtime by

35-45%

and reduce maintenance costs by

25-30%

Energy efficient – building energy management systems can deliver energy savings of

20% to 30%
We focus on some key solutions that can drive efficiency, like occupancy monitoring, predictive maintenance and BMS optimization, as well as different types of buildings that can be retrofitted with new technologies – including retail spaces and healthcare facilities.
To find out more about all things building efficiency, listen to the latest episode of The Measure Podcast.
2. How to create a productive space
Next up in The Measure, we dive into the fascinating topic of productivity, and how it can be impacted by the spaces in which we live and work.
It's clear that productivity changes massively from person to person, but there are some factors that enable us all to work more effectively. They include obvious quick-fixes, like ergonomic chairs and adequate lighting, to the invisible features of our indoor environments.
The main focus for this section is indoor air quality (IAQ): how it impacts productivity, and how poor IAQ can be mitigated by technology.
We've even included a periodic table of healthy productivity on pages 86 and 87, so make sure you head there to see the elements that can make your workplace a more productive environment for your employees!
3. How to create a sustainable space
As we're all aware, there's a massive need to reduce the environmental impact of our buildings, so we dedicated this part of the magazine to all things sustainability.
We provide a summary of all the sustainable building regulations you need to know about, including:
Local Law 97 (LL97)

– US
The Securities and Exchange Commission (SEC) – US
Corporate Sustainability Reporting Directive (CSRD) – Europe
Energy Performance of Buildings Directive – Europe
And then we share some practical tips for reducing your company's energy usage and hitting net zero by 2050.
If you're looking to get started on your sustainability journey, take a look at our recently published Impact Report.
Want to get the measure of your Real Estate?
We hope you enjoy reading our first ever magazine!
If you'd like to find out more about making your space more efficient, productive and sustainable, book a workplace consultation with one of our experts today.